How To Solve "Outlook Address Book Not Showing" Error
Summary – This blog will help you solve the problems that Outlook users face with "Outlook address book not showing". Read the article to find out the most effective ways to fix the Outlook Address Nook Not Showing errors.
Microsoft Outlook is a desktop email client for all end users. Like other email clients, it can include various components, such as email messages, calendars, address books, and more. In addition, it provides various data security features, business environments and user-friendly interfaces.
Manual Approach To Fix Outlook Address Book Not Showing Problem
Firstly, you need to start the import process, Open Outlook on your local machine and Select on File Options.
Then choose the Open & Export option and go to the Import / Export option.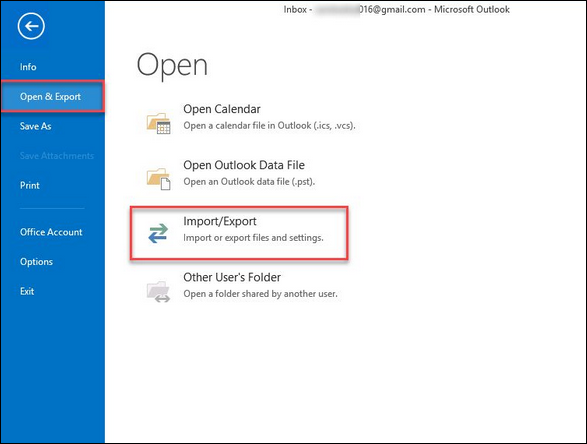 The Import/ Export Wizard window now appears on the current screen. click Import from another program or file option and press the Next tab.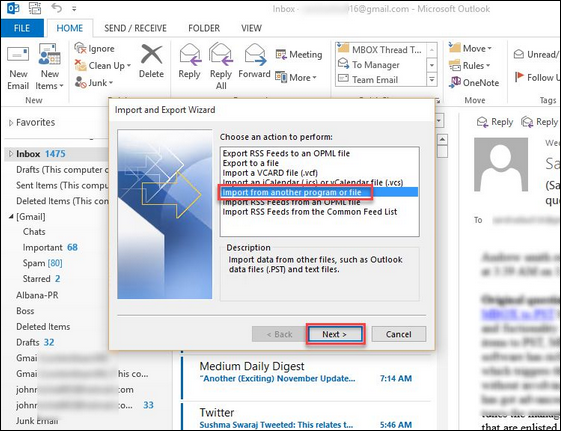 Then, choose CSV option and then hit on Next button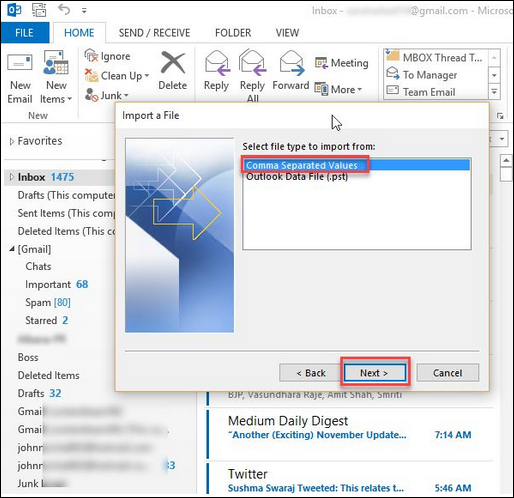 Then click on browse option and choose the CSV file exported in step 1. Then do not import duplicate items radio tab and select next tab to continue the whole process.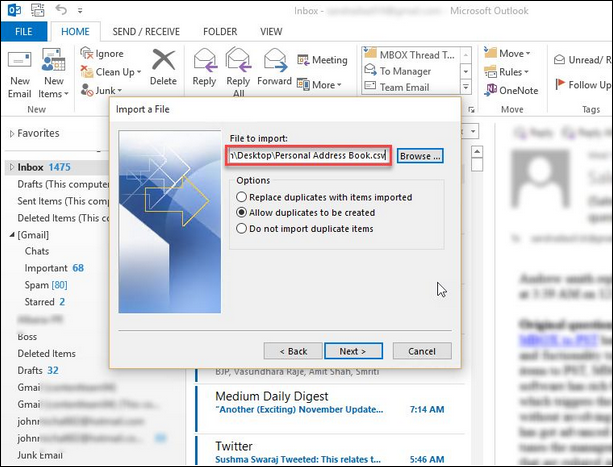 After that, choose the specific folder where you want to import .csv contacts into MS Outlook. Next go to Contacts and hit the Next tab.
In the next step, select the map custom fields to Import each Column from .csv file into Outlook Contacts to avoid the error "Outlook Contacts is not showing"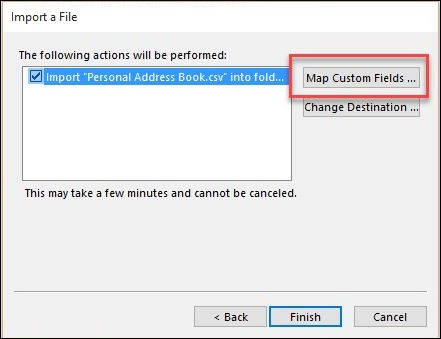 Note: Sometimes many users may skip this step, thus they have received this error message "Outlook contacts are not available in the address book.
For the same, you can simply drag and drop items from the left panel (Consisting CSV contacts Columns) to the right panel (existing Outlook Outlook column)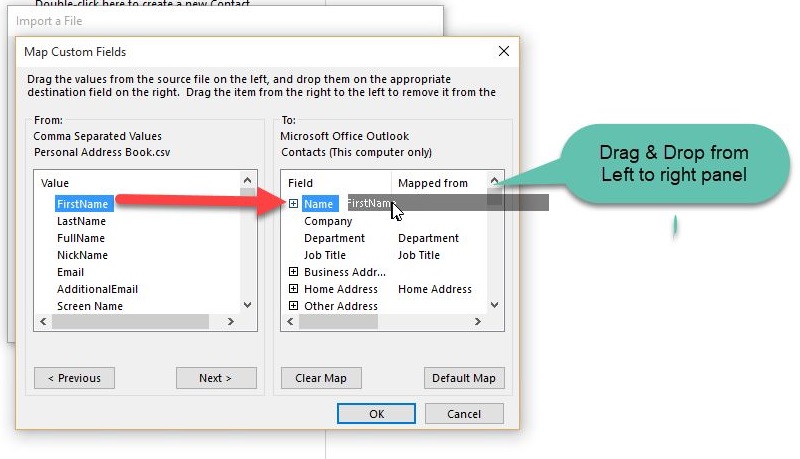 In the Import File window, select the Finish tab and wait for all contacts to be successfully imported into the Outlook account.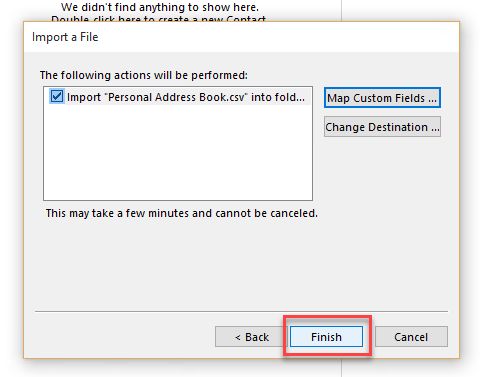 Finally, all .csv contacts have been successfully transferred to MS Outlook.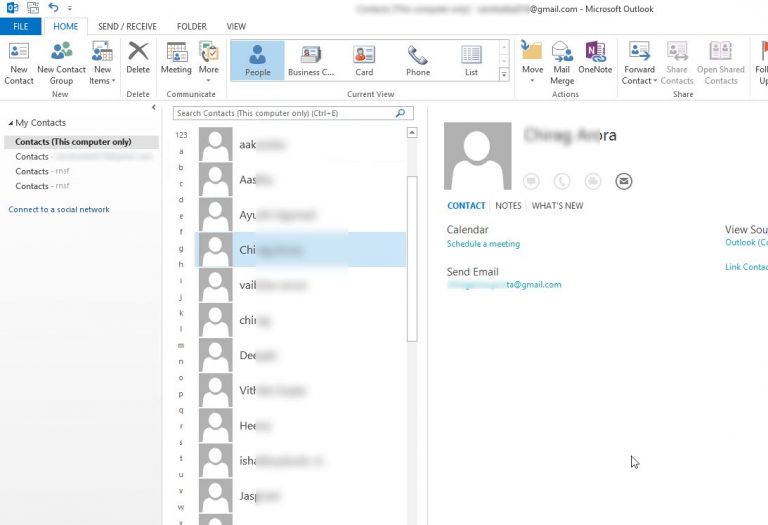 Lack OF Manual Approach
There are Various solutions available online that can help you resolve "Outlook contacts not displayed in the address book".
It can import a .csv file into the MS Outlook application.
You cannot export multiple .csv files at the same time during the conversion process.
The process discussed is quite lengthy and time consuming to complete each step.
The Users should have detailed knowledge of this error i.e. Outlook contact is not available and why this error message occurred.
Alternative Solution To Fix "Outlook Address Book Not Showing" Issue
The OAB Recovery Tool is professional software capable of recovering data from multiple OAB files at the same time. However, in this particular case, users must add one offline address book file at a time. After all files are added to the application, users can restore OAB file data in the desired format at once. You can retrieve contacts from an Exchange GAL file regardless of file size. The software can recover offline version of Outlook global address list file without data loss or corruption. It supports OAB files created in all versions of Outlook, including 2019, 2016 and 2013, and Exchange 2019, 2013, 2016 and more.
Step-By-Step Guide To Recover Data From Offline Address Book (OAB) File
With just a 4 simple steps, users can access OAB data File in four different formats.
1: Launch and Run Offline Address Book Recovery Software.
2: Next, Browse to Add OAB data files.
3: Preview all the information in the udetails.oab data file.
4: Restore OAB data file from various file formats such as: PST, PDF, vCard and CSV
It's Time to Verge
The Outlook Offline Address Book (OAB) file is a collection of Outlook address books, including the names, email addresses, and other contact information of Outlook users. Often users get stuck and face some problems. One of these errors is "Outlook Address book Not Showing." Therefore, in this article, we have explained both the manual and automated solutions to fix this issue.