Tricks to Fix OLM.DLL Not Found or Missing Error
admin | November 13th, 2017 | Mac Outlook
Microsoft Outlook is one of the popularly used email clients on both the Mac and the Windows platform. However, Mac Outlook uses OLM file format to store complete mailbox data. But, there are various synchronization related issues associated with OLM. In addition to this, if OLM File got corrupted or damaged, then there are some particular kind of errors encountered by the user. One such error is OLM.DLL not found or missing error, which is really hard to understand. This type of error generally denied the DLL file access. Moreover, it is a common error, which can easily be encountered on any operating system such as Mac, Windows, etc. The main motive of this error is to start creating issues in the operating system, which are really hard to fix. Therefore, to understand how a user can rid of OLM.DLL error, we have discussed several manual solutions.
Various Root Causes of "OLM.DLL Not Found" Error
The major cause of this error is when a user tries open or install any new applications. This type of error can occur when Windows or application start or shut down abnormally. Before looking for measures to fix OLM.dll file error, it is important to understand how this error came across. Thus, here, we listed all possible reasons for missing OLM.DLL err error:
It might be possible that someone has accidentally deleted OLM.DLL file or get deleted by any antivirus or system cleaning software.
If the OLM.DLL file configuration entries are still active in the system registry, then also such type of error occurs.
The OLM.DLL file becomes corrupted or damaged due to some virus infection.
A user has installed, reinstalled, or uninstalled some applications incorrectly.
Different Types of OLM.dll Error Messages
There can be various type of OLM.DLL Not found error faced by the users and all of them are listed below in the image: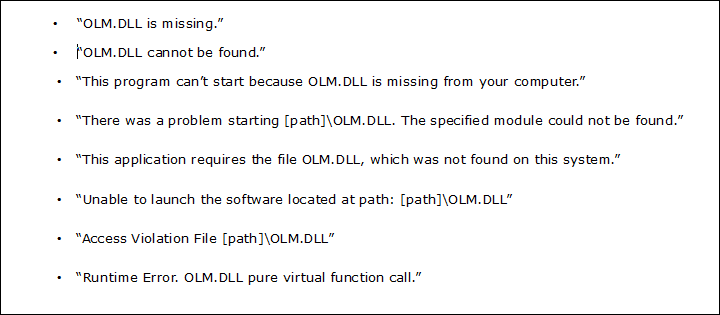 Different Measures to Resolve "OLM.dll Not found" Error
There are several manual methods available that a user can try to fix missing OLM.DLL error. All these manuals are very time-consuming but it is a free and easy way to get rid of such errors. Therefore, we have discussed some of the most widely used manual solutions:
Solution #1: Scan Your Local Machine
The first thing that a user can try during OLM.dll file Not Found error is to perform a deep scan on the local machine. After that, a user needs to get rid of all the malicious programs and threats from the machine immediately. Then, start the Mac machine again in the 'Safe Mode'.
Solution #2: Restore the all Missing File
After removing all viruses and threats from the system, its time to recover the missing OLM.dll files on your local machine. However, in any case, if the file gets deleted, restore it from the recycle bin. Then, again check if the missing OLM.DLL error is resolved or not.
Solution #3: Resolve All Windows Registry Errors
One of the most significant methods to fix the OLM.DLL error is first to detect the error and after that, fix the registry error. If this method is executed in a proper manner, then it will surely overcome this issue.
Solution #4: Uninstallation and Reinstallation
If the main reason behind this OLM.DLL not found or missing error is some applications, then you need to uninstall or reinstall them through Add or Remove program. This method will eliminate the harmful content completely from the local machine.
Solution #5: Update Hardware Drivers
If this error message is due to corrupt or damaged OLM.dll file, which is because of some hardware related issue then, one can simply update the hardware drivers. For example, if a user encounters an error while using the scanner, then update the scanner driver immediately.
Solution #6: Use 'Scannow Command'
In order to remove a damaged, missing, or harmful DLL file from the operating system, a user can execute the 'Scannow Command'. This command will surely resolve the OLM.DLL Not found error.
Solution #7: Try to Download OLM.dll File Once Again
First of all, restore the olm.dll file
After that, copy the olm.dll file from another machine with the same OS
Then, save this file to the system at C:\windows\System32
Next, you can easily download the OLM.DLL file from any website
Then, reinstall the application with the help of olm.dll file.
All these manual solutions are normal troubleshooting ways to make Mac machine completely free from errors. Moreover, all corrupt or damaged, missing, and accidentally deleted olm.dll files will be recovered.
The Bottom Line
In order to work in any organization, error-free operating system or working environment is the most important thing. But, OLM.DLL error mainly encountered to create issues in the operating system. Thus, in this post, all possible troubleshooting techniques to resolve OLM.dll not found or missing error has been discussed.