How to Import Google Takeout to Gmail or G Suite
Google has always become the first choice for each individual due to its advance services. Also, it has offered various features like Gmail, Google's suite, Google Drive, and so on. One such feature is Google Takeout, which helps to download the crucial data from Google account in an offline mode. Due to this reason, there are many users who prefer to save their data by using Google Takeout, which can extract the complete data in a .zip folder. However, numerous of users want to import the downloaded data into the Gmail account that makes easier to access the same information in Gmail account. In the upcoming section, we are going to discuss an efficient way to import Google Takeout to Gmail or Google's Suite. Before proceeding this, users need to know about Google Takeout.
Overview of Google Takeout
As everyone wants to export their essential data from Google application, i.e. Gmail then, Google Takeout is one of the best options. It provides an option for end users to select the items that are required to be exported. After selection, this service starts downloading the data from the respective account. Thereby, users can easily select the specific item for extracting such as emails, contacts, bookmarks, YouTube, Google Drive, Google Calendars, etc. In addition, there are many items that can be associated with Google account and then, downloaded by Google Takeout service. Moreover, it can download the selected data items and protect them into a ZIP file, which can be stored locally.
Manual Way to Import Google Takeout to Gmail
Google Takeout is a facility which allows transferring data in and out from Google account. There are few steps that makes easy for end users to move Google Takeout data into another Google account (G Suite or Gmail). Let's have a look:
First, you have to log in to your Google Takeout by signing in to the Gmail account
Now, select an option for downloading the required data from a navigation bar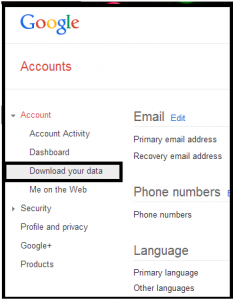 After this, click on the "Create an archive" option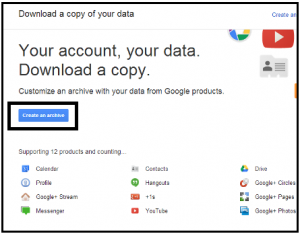 A new screen will open from which many services can be selected whose data is needed to export. Enable the specific checkboxes for required services. Now, Google Takeout will create a .zip file that is downloadable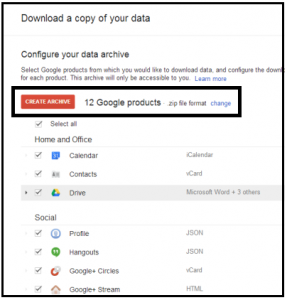 If you select the 'Change' link then, there are two more preferences that appear on the screen along with a Zip file that are .tgz and .tbz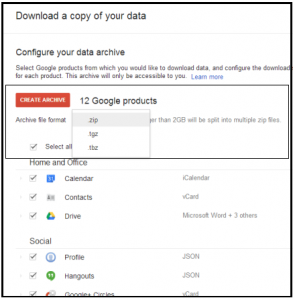 After selecting the 'create archive' option, you will automatically get logged out from your account. Now, again sign in to the account and a .zip file of all data will be downloaded on the local system
How to Data Extraction Through Google Takeout
Mails
All the email messages of Gmail are saved in .mbox format file along with its attachments. MBOX file has supported by different email applications like Thunderbird, Outlook 2011 for Mac, Apple Mail, Entourage, etc. By default, a single .mbox file is created for each email. Google Takeout helps to store data either three or seven times in a week with an ease.
Calendars
Google calendars are stored in ICS file format. Out of them, iCalendar is the most commonly used mode for saving or sharing the calendars across an internet. There are a large number of web-based or desktop-based email applications that can open and read .ics file.
Contacts
1. vCard: All contacts are saved into .vcf or vCard file format by default. It is an electronic business card, which supports different email clients and other devices as well.
2. HTML: HTML is one of the most suitable file format for opening files in web-browse. When all the contacts are stored in HTML format, it makes easy to import them into any other Contacts Management Software
3. CSV: CSV file (Comma Separated Values) that can be easily opened in MS Excel. Thus, it is an advantage to save all contact details in the well-managed form via spreadsheets.
Google Drive
1. DOCX: MS Word 2007 & its later versions can store and read its data in DOCX format file
2. ODF: The open source word processors such as LibreOffice or OpenOffice can read an ODF(Open Document Text) file
3. Rich Text: This file format can read through word editors like Word, Notepad, etc. Most of RTF file viewer do not contain the formatting options
4. PDF: It stands for Portable Document Format. It is a simple file format that can easily open, read, and view the data. With the help of free Adobe Reader, PDF documents can read on Mac as well as Windows OS
5. Plain Text: Document file with text but without any formatting is the plain text.
Conclusion
Google offers numerous additional features that make easy for end users to manage their data accordingly. Out of them, Google Takeout is one of the best options. In the above section, we have discussed the simplest way to import Google Takeout to Gmail or G Suite (Google Apps).