Different Types of MBOX Views
MBOX is one of the most common file formats for storing email messages.
A single MBOX file contains multiple email messages in a concatenated manner. In MBOX every single message is separated by "FROM header". There are many ways to open an MBOX file such as using email clients, free MBOX viewer apps, etc.
Types of Views:
Normal view
Hex view
Properties view
Message Header view
MIME view
HTML view
RTE view
Attachments
All these views are available through the MBOX viewer application. This is a free software to open and view MBOX files without any external application.
Normal view: It is the simple format for email such as
From:
Date Time:
To:
Cc:
Bcc:
Subject:
Attachments:
[Content]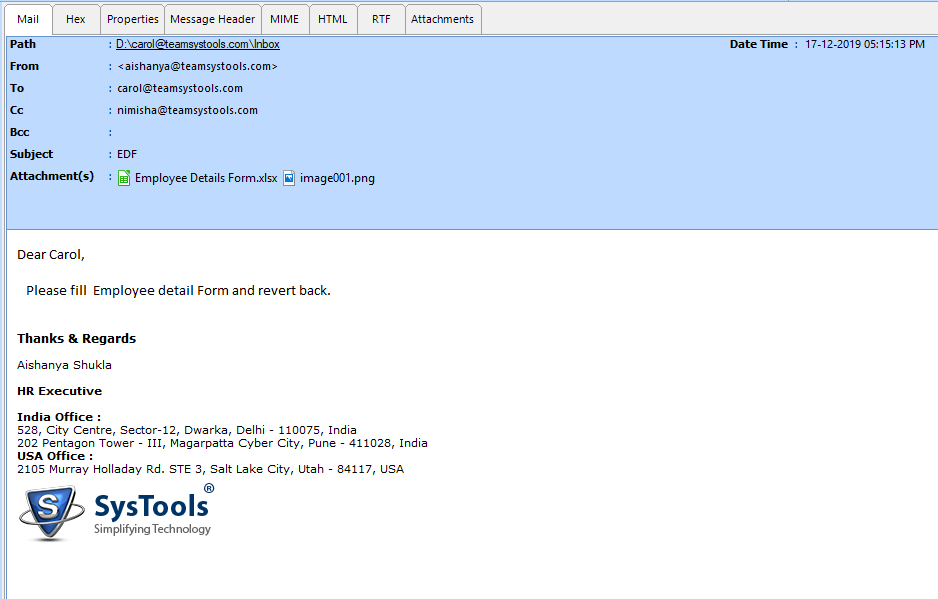 Hex view: It is a standard numerical format for representing binary data (0 and 1). There are total 16 Hex digits 0-9 and A-F(represents 10-15). Every Hex digit contains 4 bits and two Hex digits combines to become one byte.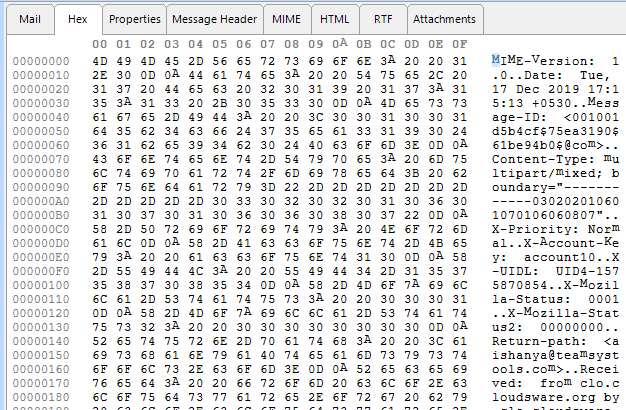 Properties view: It contains almost every information about an email such as:
*Additional information:
Message class- It's like a container which holds different text messages.
Message Header ID- It is an identifier of an email.
Message size- the size of an email in bytes.
MD5- Most common hash algorithm for emails.
*Body Detail:
Body- Content of an email.
HTML Body- Content of an email in HTML(Hyper Text Markup Language).
RTF- Rich Text Format is a proprietary document file format.
*Dates:
*Internet Header Details:
Content-Type- It is used to indicate the media type of resource.
Date
Message ID- It is a unique identifier for a digital message.
MIME version
Return path- It is the email source address(also known as bounce address).
X-Mailer – It is set by the sending program and describes the Mail client.
X-Priority – Email Importance(1 is common, 3 is normal and 5 is lowest).
*Message Flags:
Deleted
Encrypted
Has attachments
Importance
Read
*Recipients:
*Represent sender:
Email-Email of sender.
Name-Name of sender
*Sender Detail:
Address type
Name
From
Email
*Subject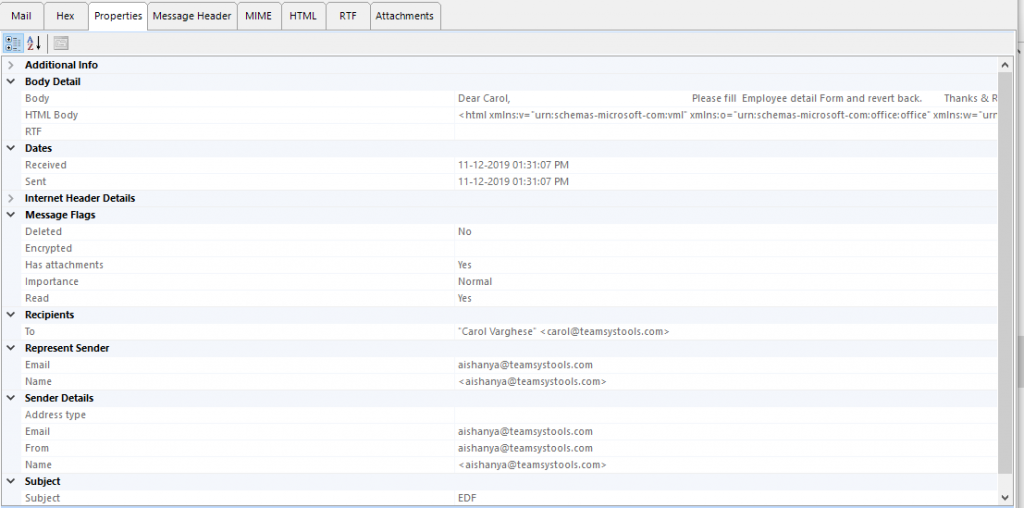 Message Header view: It contain the information about header of email:
Content -Type
To
From
Subject
MIME-version
Message-ID
X-Mailer
X-priority
Date-Time
Return-Path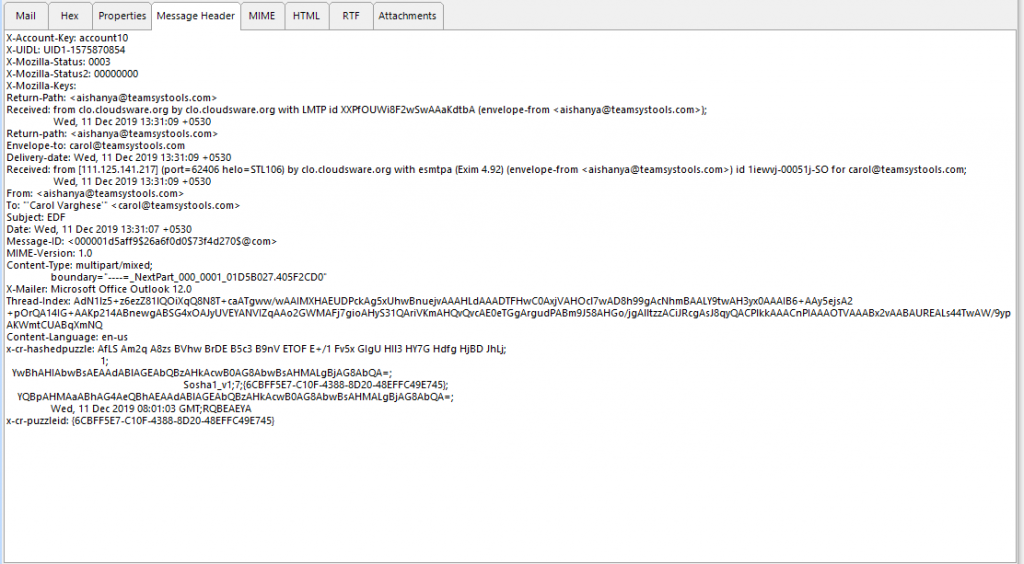 MIME view: (Multi-purpose Internet Mail Extensions) is an Internet standard that extends the format of email message to support text in character sets other than ASCII and attachments of image, video, audio and application program.
Content -Type
To
From
Subject
MIME-version
Message-ID
X-Mailer
X-priority
Date-Time
Return-Path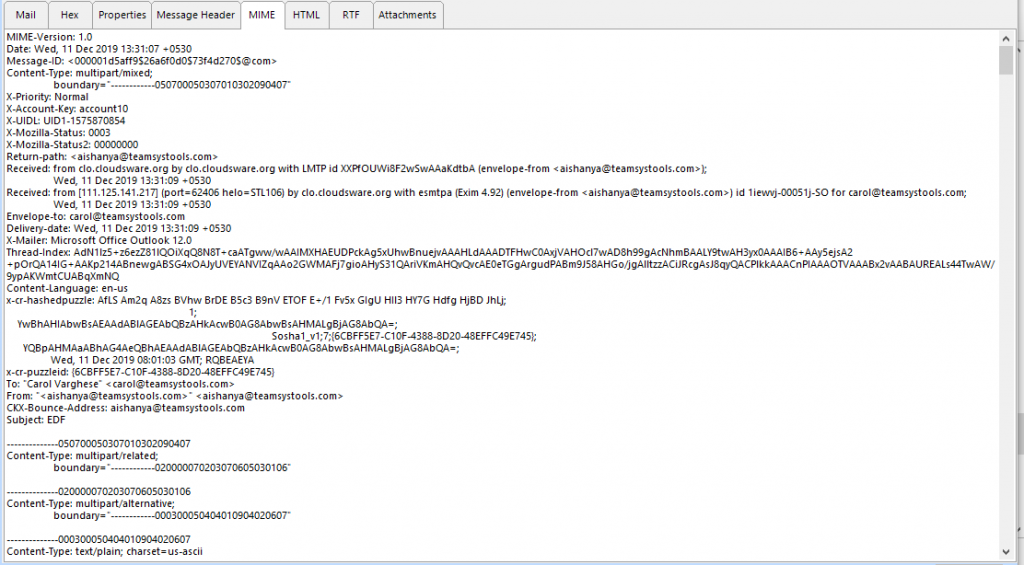 HTML view: Hyper Text Markup Language used to make websites. It represent email in HTML language(.htm).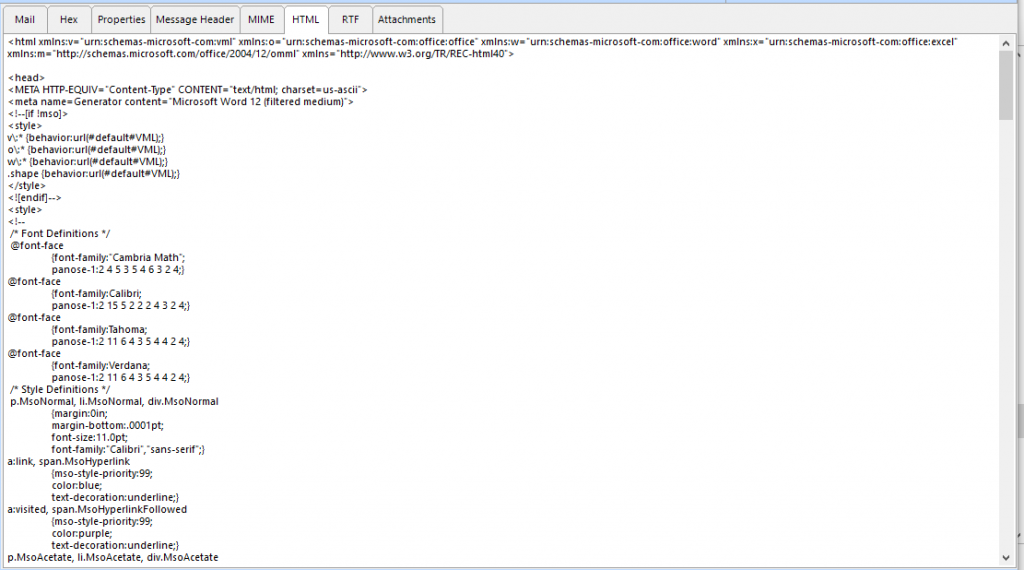 RTF view: Rich Text Format is a proprietary document file format with published specification developed by Microsoft Corporation(.rtx). It represents an email in RTF file format.
Attachments: To represents the attachments of an email such as:
Attachment of Image- TIFF, JPEG, etc.
Attachment of Video-AVI, MP4, etc.
Attachment of Documents-PDF, HTML, etc.
Attachment of Audio- AIFF, WAV, etc.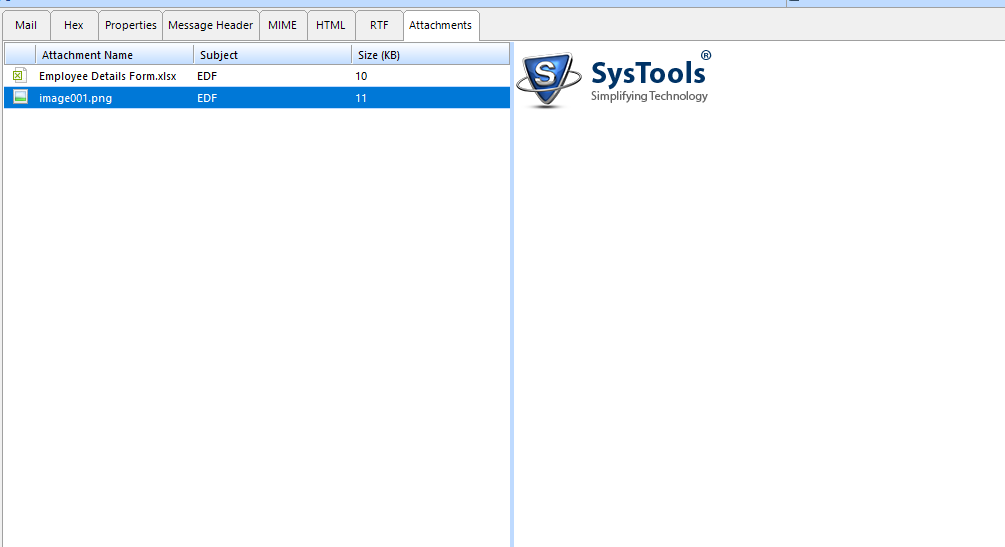 NOTE: In addition to view MBOX file, if you also want to export emails, you can use MBOX converter tool. It supports conversion to PDF, PST, EML, MSG, NSF, HTML.